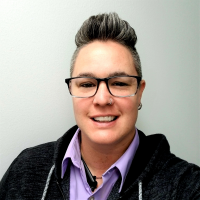 K. Aten
Supernatural Suspense, Action & Adventure, Contemporary Romance, Paranormal Romance, Romance, Erotic Romance, Historical Fiction, LGBT, Humor, Science Fiction, Fantasy
Profession

Author & Engineering Coordinator
Award winning author and Michigan native, Kelly Aten brings heroines to life in a variety of blended LGBTQ fiction genres. She specializes in speculative fiction, focusing on extra-ordinary women who are as flawed as they are compelling. She's not afraid of pain or adversity, but loves a happy ending. Kelly's goal with each new novel is to make people #Think, #Feel, and #Discuss.

"Some words end the silence, others begin it."

2019 Golden Crown Literary Society (GCLS) Goldie winner: Waking the Dreamer - Science Fiction/ Fantasy

2018-2019 Rainbow Award for F/F Alternative: Waking the Dreamer - Science Fiction/ Fantasy

2019 Lesfic Bard Award winner: Burn It Down - Drama

2020 Lesfic Bard Award winner: Remember Me, Synthetica - Science Fiction
Truth without friendship is a harsh reality, friendship without truth is no reality at all.
K. Aten
It is our potential for beauty that defines us but our imperfections that make us real.
K. Aten
You don't need to lean on anyone else once you've learned to stand for yourself.
Kelly Aten
Every friend we meet convinces us we are worth more than that one person who thought we were worth less.
Kelly Aten
It is perspective that differentiates between reality and imagination. And that same perspective will determine if a picture is truly worth a thousand words, or if those thousand words are silent in the face of one solitary moment of our precious, too-human, time.
Kelly Aten
It's only when you give up desire and cling to hope that you find what you most desperately search for.
Kelly Aten
My greatest fear is that someday my head will talk my heart out of what it truly deserves.
Kelly Aten
If kisses are an art then I am an artist and my tongue is the brush with which I paint your canvas.
Kelly Aten
There are way too many sheep in the world, identical with their dirty white fleece coats but we are most certainly not all good. We are human. And it is very hard to be good... in a bad world, where easy is the watchword of happiness.
Kelly Aten
While many things in this world reflect in shades of gray...there is a definite line between good and evil. Choose Good
Kelly Aten
Sleep can be found in the hardest bed and lost with a single smile.
Kelly Aten
Sleep is a gentle mistress, fickle when we need her most yet she is the only lover to leave us rested at the end of a tryst.
Kelly Aten
It is madness that follows the easiest path into oblivion while sanity claws its way back out.
Kelly Aten
Love isn't a gift to be passed around like stolen gold. It is a tidal wave that forces you off course and takes you to distant and exciting lands."
Kelly Aten
Patience is not found in the great mountain as it waits for the water to wash it away. Nor is it in the rains, willing the mountain to wear down. True patience is with the sun, warm and quiescent until the storm passes.
Kelly Aten
Of what worth is the moon tomorrow when the sun could die today?
Kelly Aten
True intimacy starts slow like trickling water in a stream.
Kelly Aten